La Presqu'île du Barcarès
CONTACT & ACCESS
Located just a few minutes from the seaside resort of Barcarès, La Presqu'île campsite can be accessed by several means of transportation. You have the choice of several ways to get here, enjoy an unforgettable holiday and get away from it all in a family-friendly atmosphere.
CONTACT THE CAMPSITE
LA PRESQU'ILE DU BARCARÈS CAMPSITE
Avenue de la Presqu'île
66 420 Port Barcarès
Tel: : +33 (0)4 68 86 12 80
Reception opening hours: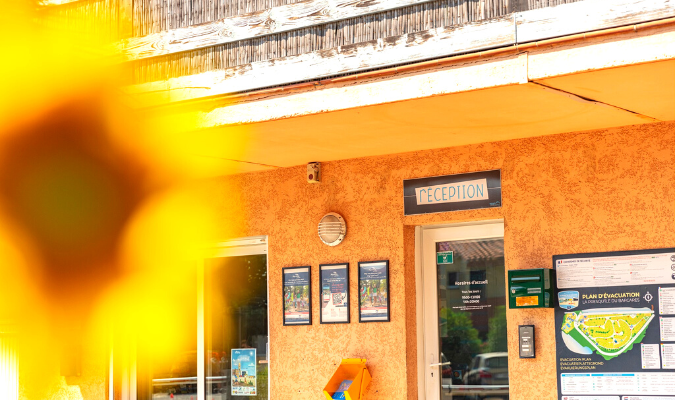 CAMPSITE ACCESS
🚗 By car:
Access by the A9 motorway, take exit n°40 Leucate. Then follow the D627 to Port Leucate then the D83 to Le Barcarès. Finally, take the fast road to exit n°11 "La Presqu'île".
✈️ By plane:
Perpignan airport is located 17 minutes from the campsite.
🚇 By train / bus:
The nearest railway station is in Perpignan, 19 minutes from the campsite. Continue your journey by taxi or bus.
From the campsite, the centre of the village can be reached on foot in 25 minutes. You will find bus stops within a 15-min walk from the campsite throughout the season (line 10).
The Conseil Général des Pyrénées-Orientales offers a €1 bus network that will enable you to explore the region at low prices!
DISTANCE FROM NEARBY CITIES
Perpignan: 25 minutes
Béziers: 1 hr
Carcassonne: 1 hr 10 mins
Gerona (Spain): 1 hr 20 mins
Montpellier: 1 hr 40 mins
Toulouse: 2 hrs
Barcelona (Spain): 2 hrs 30 mins
Valencia: 3 hrs 15 mins
Bordeaux: 4 hrs
Lyon – Clermont-Ferrand: 4 hrs 10 mins

.